Top of the Page: This article is part of the LinkedIn Hiring Tools Guide. Read our related articles on LinkedIn Job Ads, and Company Pages.
Candidates nowadays are looking for ways to understand if they would fit with your company before applying to any open role. 
That's why a company page must have a comprehensive, full of behind-the-scenes photos and videos. 
This article will cover the benefits of using LinkedIn's Career Pages and how to optimize them to increase the conversion rate from leads to candidates to employees. 
LinkedIn's Career Page Basics 
What is it? 
If you are new to the recruitment scene is important to understand what is a career page. LinkedIn says candidates are 1.8x more likely to apply for a job if they are familiar with the company. 
Career Pages are helping you do just that. 
They are a dedicated section where you can post your company updates, employer brand campaigns, and more about the open jobs and internal culture. 
How much does it cost? 
One thing you should know is that you can create a company page with a free account. However, you have to pay if you want to link a Career Page to it. The costs vary depending on your company's needs. LinkedIn recommends contacting a Sales consultant and choosing the right option for you. 
According to Investopedia, the premium subscription prices start at around 29.99 $ per month. 
The benefits of using the Career Pages 
As Career Pages come with a cost, we invite you to check some of the main benefits before deciding it is out of budget
Tell your company's story 
The main benefit is that it helps with telling your company story. You can share photos, videos, status updates, and create employee takeovers to make it familiar to your potential candidates. 
Attract candidates 
Speaking of candidates, it helps you attract them. We are all human beings, so we relate to other humans. Starting a new job is always a scary experience since you have to adapt to a new environment. Having a Career Page helps you make your brand more human and attract candidates that feel like they would fit in. 
Measure results
What you can't measure, you can't change! This saying highlights the importance of tracking data and making data-driven decisions. Career Pages give you the tools to measure your impact and employer brand initiatives. 
Career Page Design
Ok. So you want to start using Career Pages. 
What you should do next is to create the content and adapt it to the layout requirements. 
Images
The first thing you should do is update the main image in the Life Tab option. This can help offer a quick snapshot of your company. 
After you set up the initial layout, add photos and video sharing into your recruitment strategy. Use pictures with your employees from the events you are organizing and short videos from your office. 
Text 
Once you update the photo section, the next step is to talk about your company. We recommend including your vision, mission, values, and some of the principles you follow inside your company. If you have any documents that you can share, you can also add a link or post them separately. 
Customize the Life Tab on your Career Page
If you decide to use Career Pages, one of the tricks we recommend is to customize the Life Tab section. This is like a preview of your organization where you can add photos, videos, or testimonials. Add whatever you think will make your company stand out. 
To customize the Life Tab option, you need to follow the next steps:
Access the Super Admin view 

Click Career Page and select Life Tab 

Click on the targeted audience page you want to edit 

Save the changes 
The cool thing about Life Tab is that you can also personalize the URL to be easily recognizable. 
Customize the Job Tab on your Career Page 
Another relevant section for your recruitment efforts is the Job Tab on your Career Page. 
The Job Tab allows all members to search for employment opportunities. With the Career Page option, members will see job recommendations and a list of employees currently occupying similar roles. 
Best Company Career Pages Examples
Before jumping into creating your Career Page, we recommend searching and seeing how other companies use this option. 
We did the research for you, and we made a quick top of the best company Career Pages examples.
Let's check them out together!
Deloitte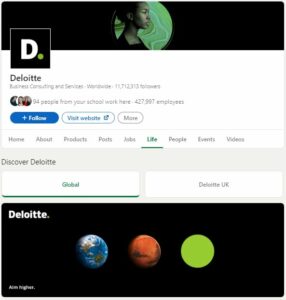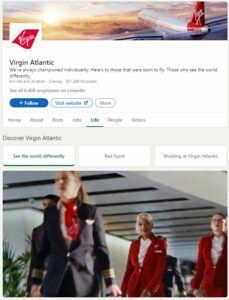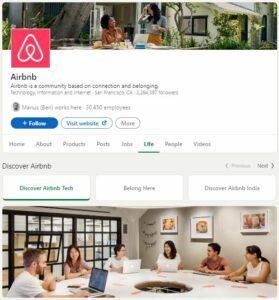 Deloitte added in their Life Tab examples of articles written by their employees, links to their career page on their main website, and other social media accounts 
Virgin Atlantic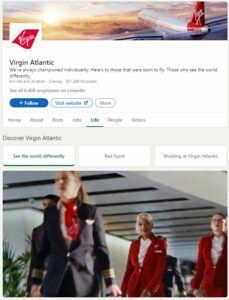 Virgin Atlantic is doing a great job showcasing its company using the video format. They also customized 3 tabs: See the world differently, Red spirit, and Working at Virgin Atlantic 
Airbnb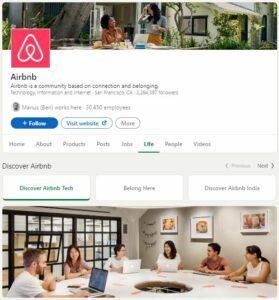 Airbnb used Career Page to showcase more pictures from inside their company and also to showcase their global offices. They added: Discover Airbnb India and Airbnb China as a shortcut to their page. 
Share with us what other things would be helpful for you to know about Career Pages on LinkedIn. 
FAQ 
How do I create a career page on LinkedIn? 
The first thing is to create your company page. Afterward, you can create a career page. To do that, you must contact LinkedIn to set the right price for your company.
What is the pricing for LinkedIn career pages? 
The price varies based on your company's needs. It is said that it starts at around 29.99$ per month. 
What should be included on a careers page? 
You should include text about your company's mission, vision, and values, add photos and videos with your employees, and also testimonials from them. 
Is the LinkedIn Career Page worth it? 
Yes, it is definitely worth it because it makes your company stand out and increases the chances of converting more leads into candidates into employees.