Top of the Page: This article is part of the LinkedIn Hiring Tools Guide. Read our related articles on Career Pages, and Company Pages.
Finding suitable candidates for your open roles might be challenging nowadays. We are in an era when everyone competes for attention and companies are struggling to differentiate themselves.
In this article, we help you get more candidates by offering all the details you need to start using LinkedIn Job Ads.
What are Job Ads on LinkedIn?
Job Ads, known as Work With Us, are the ads that appear on the right side of profiles. They are a paid option offered by LinkedIn to help you reach more people interested in your job opportunities.
Benefits
One of the main benefits is placing them directly on profiles your potential candidates visit. This helps you get more engagement than standard ads do since the number 1 activity on Linkedin is viewing profiles.
Secondly, it helps you save time since you automize your recruitment process and reach precisely the people you are looking for.
Moreover, you can use this option to avoid having other competitors place ads on your employees' profiles.
Pricing
In terms of pricing, LinkedIn offers similar options as other Social Platforms. It is determined by an online auction system that allows you to place bids for your ads.
You can choose a pay-per-click model and set up a daily budget. You can set a total budget if this is not suitable for you. The system will automatically pause the ads when your spending reaches the budget limit.
Features
If you want to start using job ads, you should be aware of some of the features:
Personalized targeting – it means that it pushes the job ad in front of people that might be suitable for what you are looking for
Simple filtering and management tools – they allow you to track, measure, and rate which ads perform best and what changes you should make
Guidance – you get advice on what type of information you should include in your job posts and what fields you should complete.
LinkedIn Work With Us Ad Specs
Now that you have all the details needed to decide if this is the right option for your company or not, you should also be aware of the Work With Us Ad specs.
Image
In terms of image design, there are a few things you should take into consideration:
Supported type: jpg, png or gif
Maximum file size: 5 MB
Image ratio:

1.91:1 (horizontal, desktop and mobile)
1:1 (square, desktop and mobile)
1:1.91 (vertical, mobile only)
Text
LinkedIn also offers guidelines related to the text.
Ad name shouldn't be more than 255 characters
The headline is a maximum of 70 characters
The introductory text shouldn't be more than 150 characters
LinkedIn Ad Formats for Recruitment
The specs are helpful to understand their precise requirement. Still, you should know that there are many types of ad formats.
Spotlight ads

Spotlight ads are the type of ads that drive traffic to a specific URL. You can use them to redirect viewers to a specific page on LinkedIn or outside it. The cool thing about these ads is that the information is tailored for each member, considering their profile details.
Job ads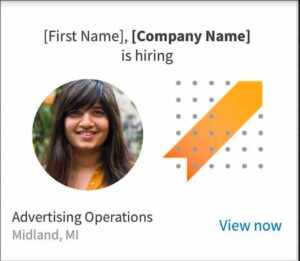 Job ads help you reach multiple people and increase awareness about your job opening. Viewers and redirected to your job page, where they can read more about the role you are advertising for.
Examples of LinkedIn Job Ads
We know that you might now be curious about what these different LinkedIn ads look like. The ones that caught our eyes the most were:
Airbnb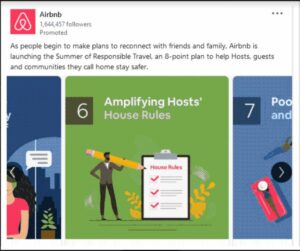 Airbnb ads showcased their eight steps plan for a safer family reunion during COVID-19.
Vidyard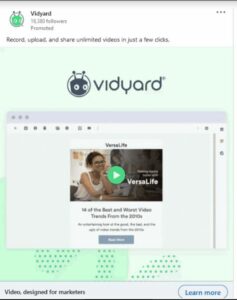 Vidyard used the video ad format to showcase their product better
Clickup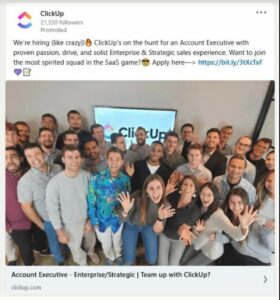 Clickup used a photo with their employees to announce a new role opening
How to create a LinkedIn Work With Us Ad
To set up a LinkedIn Work with Us ad, follow the next steps:
Create a Campaign Manager Account if you don't have it already. If you already have it, just sign in
Select a campaign group
Select your objective
Build your target audience
Select your ad format
Select your budget and schedule
Set up your ad
Review
Launch your ad
Let us know if you used Job Ads and how it went!
LinkedIn Job Ads FAQ
How long do LinkedIn job ads last?
Your ads will remain open until you manually close them once the budget reaches its limit or after six months.
Can you boost job ads on LinkedIn?
You can post a job for free or choose a paid option to reach more people.
Does it cost money to promote a job on LinkedIn?
Yes, you have to pay to promote a job.
How do I stop promoting a job on LinkedIn?
You can pause the promotion from your View all Jobs – More options.